Top Foodie Destinations in Ireland 2019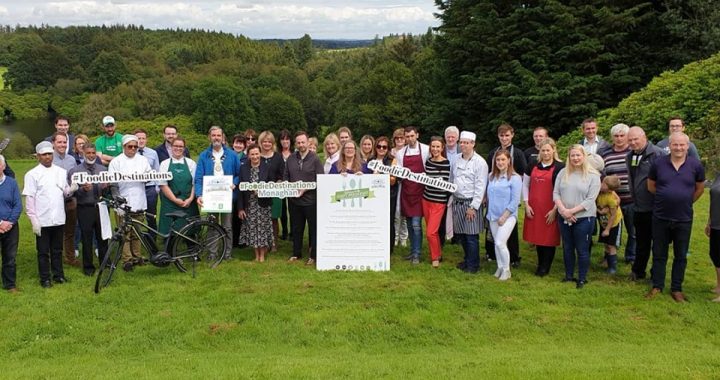 For the fourth time in a row Monaghan/Glaslough have made it to the top 10 of Foodie Destinations Ireland sponsored by FBD Insurance.
The judges selected for the Monaghan/Glaslough area were Deirdre McGlone, former owner of Harveys Point and Anthony O'Toole, Food Blogger and writer.
The judges descended upon Monaghan on Tuesday 13th August and were treated to a Greenway Bike ride kindly organised by Paddy Mc Quaid of Drumlin Trails Bike Hire in Glaslough. They were then greeted at Rossmore Park with a Giant Breakfast and a producer showcase overlooking the lake and the Giants of Rossmore.
After all of that on they went for a Gin tasting Masterclass with Kevin in Andy's Bar and Restaurant. From there they visited the newly refurbished DV Lounge in the Westenra Hotel. Then it was back to the delightful village of Glaslough were they met with the Glaslough Tidy Towns Team and sampled some ice cream treats in Pocono. They also had the opportunity to visit Patrick Herron in Ambledown Cottage, another unique eatery in the village.
Finally, to wrap it all up, they arrived at Castle Leslie in style on their horse drawn carriage where they had afternoon tea and a tour of the walled gardens.
This great day wouldn't have been possible without the hard work and dedication of the committee as well as the producers, chefs and everyone who came together to make it a great morning with plenty of sunshine and fun.
Don't forget to vote on the below link.
http://tiny.cc/VoteMonaghan